Bangunan Sulaiman: The AIAC's State of the Art Facilities to Conduct Arbitration Hearings
Bangunan Sulaiman: the AIAC's State of the Art Facilities to Conduct Arbitration Hearings
*Take a virtual tour of Bangunan Sulaiman here.
Arbitration is generally considered to be an efficient and cost-effective method of dispute resolution. In recent years, however, arbitration has faced criticism for being too costly: hourly rates for top-notch lawyers may exceed USD 1,000, interpreter fees are exorbitant and the costs for seminar rooms in hotels transformed into hearing and break-out rooms can easily reach USD 50,000 for one hearing alone. Many arbitral institutions have addressed these concerns by providing their own facilities for hearings. The better equipped they are, however, entails a greater cost to be borne by the Parties; this often negates the difference between arbitral institution's own hearing rooms and that of luxury hotels offering similar services.
The old adage that quality comes at a (high) price does not hold true when it comes to conducting hearings at the Bangunan Sulaiman: we offer state of the art hearing centres at only a fraction of the costs of other arbitral institutions (or compared to hotel seminar rooms), as was shown in a survey by the Global Arbitration Review.
"The Bangunan Sulaiman has potential to be the best [arbitration hearing centre] outside the Peace Palace."
(Global Arbitration Review Guide to Regional Arbitration (Volume 6/2018)
https://globalarbitrationreview.com/benchmarking/guide-to-regional-arbitration-%20volume-6-%202018/1150108/survey-results
Recognised as a premier hearing centre and having been dubbed to have the potential to be the best outside the Peace Palace as well as offering by far the most competitive rates in comparison with other hearing centres, the AIAC's Bangunan Sulaiman in Kuala Lumpur is a smart, cost-effective and well-informed choice when selecting a hearing venue.
The AIAC offers the most affordable hearing facilities among arbitral institutions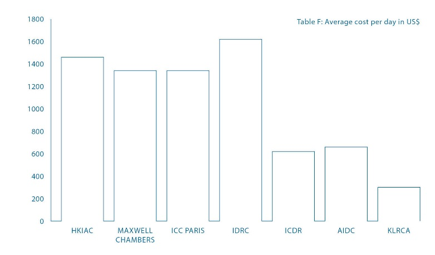 (Global Arbitration Review Guide to Regional Arbitration (Volume 6/2018)
https://globalarbitrationreview.com/benchmarking/guide-to-regional-arbitration-%20volume-6-%202018/1150108/survey-results
Over thirty rooms available for hearings
Our two extra-large hearing rooms allow for hearings with up to 60 persons, thus being able to host even the largest arbitration hearings. Along with three large hearing rooms that can accommodate 22 persons each, there are an additional 10 medium sized hearing rooms that can accommodate 14 persons and six small sized hearing rooms each offering space for up to ten persons. This allows the AIAC to host several large hearings simultaneously, including additional "war rooms" needed by counsels.
In addition to our four dozen hearing rooms, we offer twelve breakout rooms, a number of pre-function rooms, arbitrator's lounges and two seminar rooms. The AIAC also accommodates bookings of stand-by hearing rooms at night which are favoured by international participants. Apart from that, the AIAC also provides free IT services with high-speed Wi-Fi for efficient and well-connected hearings. As an example of the Bangunan Sulaiman's increasingly global recognition, we have received more than 3,000 bookings for our facilities during the last two years.
A vast array of IT services from video-conferencing to fully automatized transcription software
In order to provide even more improved hearing facilities, the AIAC has recently equipped all extra-large, large and medium-sized hearing rooms with court recording transcription software that enables live recording and transcription of video conferences for merely USD 398.00 for medium sized hearing rooms and USD 455.00 for large hearing rooms per day. In contrast to many other hearing centres, we also offer a well-equipped library with a broad array of authorities in arbitration and construction law in particular, as well as free access to all prevalent online law databases, such as Kluwer Arbitration, Lexis Nexis, etc. There are no "hidden costs" when one conducts a hearing at the Bangunan Sulaiman. Should there be a need for IT technicians and video-conferencing specialists, it will be provided free of charge.
Introducing our Advanced CRT Rooms:
Advanced CRT Large Hearing Room (22 Pax) offers upgraded, leading-edge Court Recording & Transcription (CRT) and 4K HD Video Conferencing systems that enable worldwide connectivity via the internet connectivity, making cross-border proceedings more convenient and precise. The size of this room is around 80 sq meter.
Advanced CRT Extra-Large Hearing Room (50-80 Pax Courtroom style) offers upgraded, leading-edge Court Recording & Transcription (CRT) and 4K HD Video Conferencing systems that enable worldwide connectivity via the internet connectivity, making cross-border proceedings more convenient and precise.
State-of-the-Art features included in our Advanced CRT rooms:
Wireless presentation system.
SmartScreen (Intelligent interactive LED 4K Screen.)
Voice Tracking Microphones for Recording
HD Video Recording for specialised court-style video capture.
HD projectors and screens
HD Document Visualizer
Ultra-fast Wi-Fi internet.
Other Additional Packages available (upon request).
Remote Transcriber Feed
Web-Seminars –

Up to 100 interactive video participants, ideal for panels
Choose a package ranging from 100 to 10,000 view-only attendees
Broadcast your event to Facebook Live or YouTube

Online Meetings –

HD video and high quality audio
Up to 500 video participants
Screen sharing and full suite of collaboration features
Record your meetings to Cloud with auto-generated transcripts

High Resolution Video Conference system –

Interoperability with H.323/SIP
Communicate with any legacy endpoint, including Polycom, Cisco and Lifesize.
Enable H.323/SIP room systems from Polycom, Cisco, Lifesize, and others to communicate with desktop, tablet and mobile devices
Single-touch connector integrations with Polycom and Cisco for an easy end user experience
Support H.264, H.239, H.235, and G.722 protocols

Tele-conferencing
Wireless Sharing

Cut the cords, cables and dongles — present content wirelessly from your laptop or mobile device.
Complimentary use of stationary, office spaces, support services and refreshments
Hearings conducted at Bangunan Sulaiman will enjoy a vast array of complimentary and value-for-money support services. From complimentary use of whiteboards and flipcharts, to free supply of writing pads and stationary, our guests can be assured that their secretarial needs will be met during busy business hours of the day. Each booked hearing room offers free use of projector and AV equipment. With free access to state-of-the-art high speed Wi-Fi, and readily available technical support staff that can handle all Audio Visual enquiries, users will no doubt enjoy peace of mind when navigating through the travails of an arbitration hearing. Complimentary coffee and tea is also available at dedicated coffee corners.
Bangunan Sulaiman also offers an extensive array of hospitality spaces that cater for comfort and privacy of guests. The building offers guests individually secured rooms, including exclusive business lounge access for arbitrators, where tribunal members can enjoy better privacy and freedom for discussions, with readily served refreshments during break hours amidst a heavy day of hearings. Each room is custom-built, complete with modern furnishings and state-of-the-art technology that can be configured to suit the unique requirements of your hearing, conference, or meeting. The centre prioritises a wide range of individualised services that are facilitated by professional, multi-lingual support staff.
Strategically located in the heart of South-East Asia and no hassle for booking hotels
Another attraction of the AIAC lies in its strategic location. Malaysia is at the heart of South-East Asia, with numerous other countries in the region such as Bangladesh, Brunei, Cambodia, Hong Kong, India, Indonesia, Laos, the Maldives, Myanmar, Nepal, the Philippines, Singapore, Sri Lanka, Taiwan, Thailand and Vietnam, being just four hours or less away by flight. The Kuala Lumpur International Airport is less than an hour away and the KLIA Express train connecting Kuala Lumpur and the Kuala Lumpur International Airport is in walking distance from the AIAC.
Booking a hotel for the full duration of a hearing can often be difficult due to the plethora of related issues such as expenses and availability, as noted in the above-mentioned Global Arbitration Review Survey. This is not the case at the AIAC: our partnership with The Majestic Hotel Kuala Lumpur, located just across the street from our hearing centre, allows participants of hearings to book rooms in the five-star Malaysian heritage hotel at our corporate rate of only roughly USD 100 per night.
Comparing the price of our facilities with that of other institutions, as well as factoring in the cost of having a central location, state of the art rooms, quality transcription/IT services as well as affordable rates at a five-star hotel, participants can easily save up to USD 5,000 or more per day when conducting an oral hearing at the AIAC. The AIAC's Bangunan Sulaiman can indeed count itself amongst some of the highest quality arbitration centres in the region, without sacrificing cost-effectiveness.
The AIAC looks forward to hosting your next hearing. For booking and reservation, please contact reservations.team@aiac.world.