AIAC Launches 2018 Edition of its Standard Form of Building Contracts and Newly Revamped SFC.AIAC.WORLD
KUALA LUMPUR, 6 April 2018 - The Asian International Arbitration Centre (AIAC) launched its Standard Form of Building Contracts (AIAC's SFC) 2018 Edition and newly revamped web portal (sfc.aiac.world) on 6th April 2018.

AIAC's SFC 2018 Edition derives from the original 2017 edition and is reflective of the name change recently undergone by the AIAC (formerly known as Kuala Lumpur Regional Centre for Arbitration). AIAC's SFC was inspired by the prevalent issues plaguing the Malaysian construction industry and aimed at filling the gaps of existing standard form building contracts in governing relationships, rights and duties of parties to a building construction project.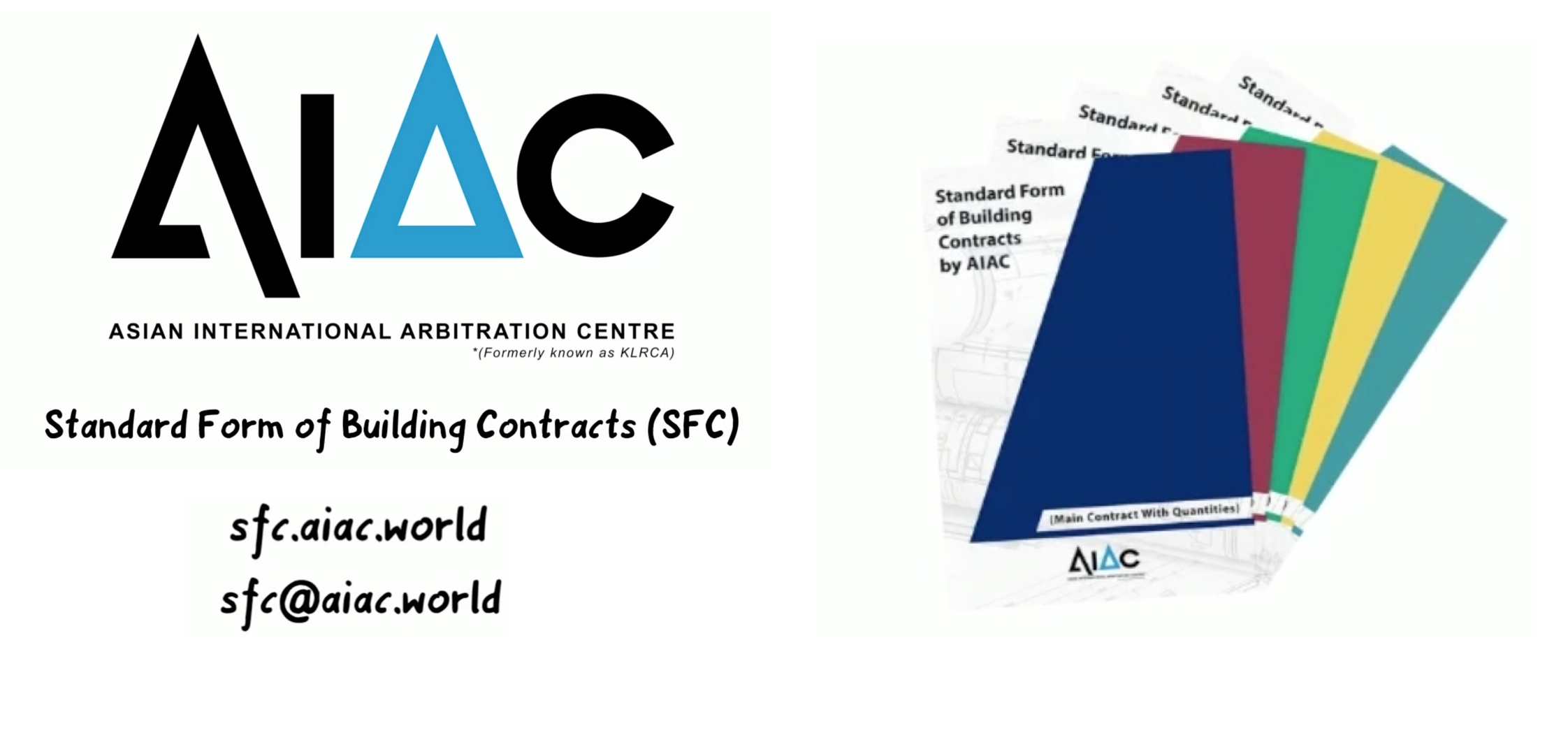 While retaining the guiding principles set out in the original edition, AIAC's 2018 Edition includes enhancements that add clarity, improve certainty, and clear ambiguity where obligations and accountability of parties to the construction contract are concerned.

AIAC's SFC 2018 Edition includes enhanced provisions with regards to: Access to Site, Valuation of Variations, Calls on Performance Bond, Work Programme & Progress Reports, the definition of "Practical Completion", Insurance Obligations, and Delay Events. These enhancements serve to facilitate the construction process by, amongst others, streamlining timelines and procedures, setting out party obligations and ensuring accountability. The 2018 Edition also simplifies the definition of "Practical Completion", catering to different types of building projects and diverse nature of works.

The 2018 Edition of AIAC's SFC is available for free on its newly revamped web portal (sfc.aiac.world) that boasts improved features to increase user-friendliness based on public feedback including personalised login credentials, and the ability to customise, save, store and share completed contracts. Registered users may also save incomplete contracts for later completion. Users will further benefit from the new Help Text feature which guides users in customising AIAC's SFC.

AIAC will soon launch the latest additions to AIAC's SFC, the Design & Build Contract and corresponding Design & Build Sub-Contract. These Malaysian-centric contracts will soon be adjusted to meet international standards for use in projects outside Malaysia.

AIAC's SFC is the Centre's second significant product launch for the year 2018. Last month, the Centre officially introduced AIAC's Rules consisting of the 2018 edition AIAC Arbitration Rules, AIAC i-Arbitration Rules, AIAC Fast Track Arbitration Rules and AIAC Mediation Rules. Included in the new rules were many new features to ensure expeditious and cost-effective administration of arbitration proceedings. Some of these features include the light touch approach to Technical Review of Awards to ensure quality and uphold party autonomy. Parties also now have the option to choose any currency for international arbitration - for greater business flexibility. The Fast Track Arbitration Rules provide for expedited procedures while the Mediation Rules focus on latest trends in dispute resolution including Med-Arb.
-END-
---
For more information, please contact:
Kanmani Gobal
Manager
Business Development, AIAC
kanmani@aiac.world
Phone: 017-228 6662/ 03 2271 1000 (ext. 1125)