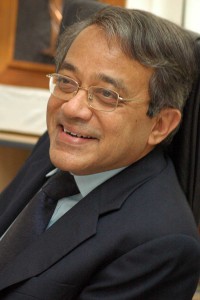 Mr. Vinayak Pradhan
MALAYSIA
Vinayak Pradhan is a Chartered Arbitrator, Consultant in Skrine, Malaysia, and Associate Member of Littleton Chambers, London. He is on the panels of Conciliators and Arbitrators of ICSID, a Member of the Permanent Court of Arbitration and of the Court of Arbitration for Sport. Vinayak is currently Vice Chair of the ICC Commission on Arbitration.
He was President of the Chartered Institute of Arbitrators in 2013 and a Commissioner with the UN Compensation Commission from 1998 to 2003. He has also sat as presiding arbitrator, co- arbitrator and sole arbitrator in numerous international arbitrations conducted ad hoc, as well as under various rules including the ICC Rules, the SIAC Rules, the KLRCA and UNCITRAL Rules, the LCIA Rules and the HKIAC Rules. Vinayak has contributed a number of articles and chapters on arbitration and construction law and is also a Commissioner with the Enforcement Agency Integrity Commission, Malaysia.
Vinayak is ranked in Band 1 as a leading individual for Construction Dispute Resolution by Chambers Asia 2010 and cited as a "tremendous lawyer to work with in every way – an excellent arbitrator, top counsel and a skilled litigator". He is also cited as being one of "the two best arbitrators when it comes to Malaysian work." He has been consistently nominated by the Who's Who Legal (The International Who's Who of Business Lawyers) as a leading individual in commercial arbitration. In the Asia Pacific Legal 500, 2013, Vinayak was described as 'a doyen of the arbitration circuit', and 'one of the finest advocates Malaysia has ever known".
Vinayak is a Fellow of the Chartered Institute of Arbitrators, a Fellow of the Malaysian Institute of Arbitrators and a Fellow of the Australian Centre for International Commercial Arbitration.