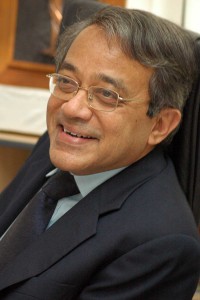 Mr. Vinayak P. Pradhan
MALAYSIA
Vinayak P. Pradhan, FCIArb, FMIArb, FACICA, was appointed as the Director of the AIAC on 21st November 2018.
In his 45 over years of legal practice, he has been a wide-ranging litigation and arbitration lawyer with ultimate focus on commercial, construction, engineering and energy disputes. Mr. Pradhan's experience spans across domestic and international matters involving a wide variety of foreign laws (England, Nigeria, Pakistan, Vietnam, Qatar, the People's Republic of China, Hong Kong, India, Sri Lanka, Mongolia, Bangladesh, Thailand, the Philippines and Singapore) and institutional rules (ICC, AIAC, UNCITRAL, LCIA, HKIAC, SIAC, PORAM, PAM and IEM).
In 2016, Vinayak became the first recipient of the 'Arbitrator of the Year Award' by the Chartered Institute of Arbitrators (Malaysia Branch). In his citation, the Chief Justice of Singapore, Mr. Sundaresh Menon, had this to say:
"In the course of my career at the Bar, I acted as counsel in many arbitrations. I therefore have had the opportunity to appear before a fair number of arbitrators from many parts of the world. With the benefit of this perspective, I have no hesitation in saying that I personally rate Vinayak among the very finest of them."
Mr. Pradhan's appointments include:
- Commissioner with the United Nations Compensation Commission dealing with construction and civil engineering claims from corporate entities (1 August 1998 to 31 August 2003);
- Member of the Permanent Court of Arbitration, The Hague (2003 to 2015);
- Arbitrator of the Court of Arbitration for Sport, Lausanne (since 2006);
- Arbitrator of the Olympic Council of Malaysia (since 2006);
- Vice Chair of the ICC Commission on Arbitration and ADR (January 2008 – December 2017);
- Panel of Conciliators and Arbitrators of the International Centre for Settlement of Investment Disputes (2008 to 2014);
- Council of Advisors of the Singapore International Arbitration Centre (2009 to 2012);
- Vice President, Chartered Institute of Arbitrators, UK (2011);
- Commissioner with the Enforcement Agency Integrity Commission, Malaysia (2011-2017);
- Global President, Chartered Institute of Arbitrators (2013);
- Ad Hoc judge, 17th Asian Games, Incheon, South Korea (2014);
- ICC International Court of Arbitration (2017 – 2018).
Vinayak regularly appears as a guest speaker and delivers lectures and papers at Malaysian and international conferences, seminars and workshops. He has written articles and chapters on construction law and arbitration and other dispute resolution processes which have been published in legal journals and in books on arbitration.