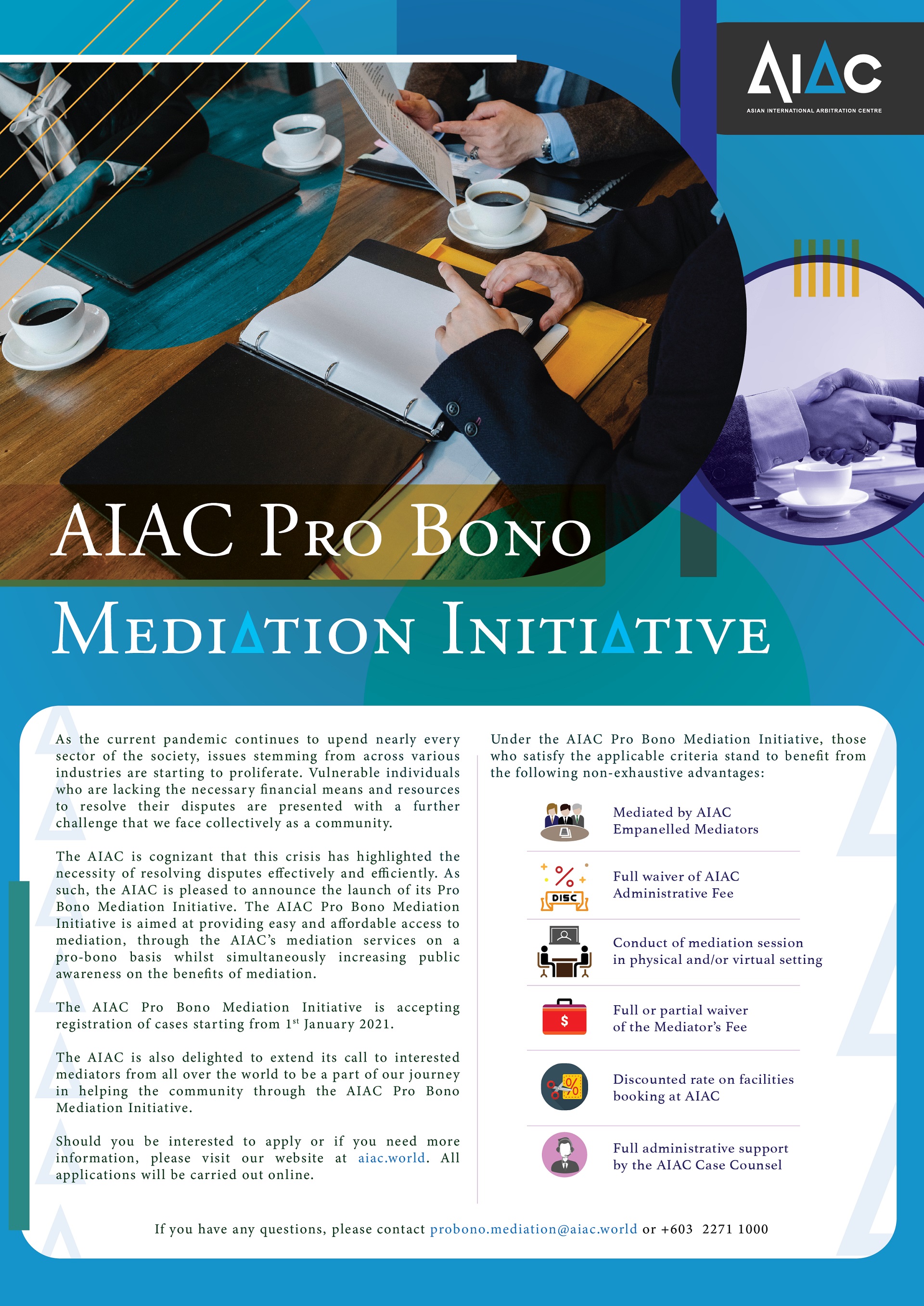 In recognition of the numerous advantages that mediation offers as an alternative dispute resolution (ADR) option and cognizant of the fact that access to dispute resolution may prove to be a hurdle for certain segments of the society, the AIAC is pleased to announce the launch of the AIAC Pro Bono Mediation Initiative. The AIAC Pro-Bono Mediation Initiative is aimed at providing easy and affordable access to mediation, through the AIAC's mediation services on a pro-bono basis whilst simultaneously increasing public awareness on the benefits of mediation.
Under the AIAC Pro Bono Mediation Initiative, those who satisfy the applicable criteria stand to benefit from the following non-exhaustive advantages:
a 100% waiver of the AIAC's Mediation Fees comprising the AIAC Registration Fee and AIAC Administrative Costs;
a complete waiver or discount on the Mediator's Fees;
appointment of a participating AIAC Pro Bono Mediation Initiative mediator by the Director of the AIAC from a list of over 80 experienced and qualified domestic and international mediators from the AIAC Panel of Mediators ranging across 22 specializations;
established and comprehensive framework for mediation proceedings in the form of the AIAC Mediation Rules 2018;
the provision of free administrative support by the AIAC in administered mediation matters;
assistance of experienced AIAC Case Counsels to monitor and supervise the mediation proceedings;
range of linguistic capabilities including English, Mandarin and Malay / Bahasa Melayu; and
the provision of physical and/or virtual solution facilities by the AIAC at a discounted rate, for the conduct of mediation hearings and meetings.
We would also like to take this opportunity to invite AIAC empanelled mediators to express your interest and participate in this first of a kind AIAC Pro Bono Mediation Initiative.
For further information regarding the AIAC Pro-Bono Mediation Initiative, please contact probono.mediation@aiac.world.