Interview with the Champions of the 1st AIAC-ICC Pre-Moot – Rajiv Gandhi National University of Law
As the 1st AIAC-ICC Pre-Moot comes to a close, we speak to the Champions, Raghav Mendiratta and Vrinda Pareek from Rajiv Gandhi National University of Law, India, on their experiences during the moot.
1. Why have you decided to participate in the Pre-Moot? How many people were involved in preparations?
Our team's participation at an Indian pre-moot, albeit immensely beneficial to our overall preparation towards the Willem C. Vis (East) Moot, revealed to us that our approach to the arguments needed to be rounded off in a manner so as to cater to a broader, more diverse range of tribunals and opposing teams. Having sensed that gap, we were certain that the AIAC-ICC Pre-Moot would afford us a more international experience that would help us bridge it; and so it did!
We were part of a five-member team, each of us having been involved in teaching ourselves the fundamentals of international commercial arbitration and preparing the memoranda; finally, two of the five of us were engaged with the oral advocacy dimension of the moot court.
2. What was the most challenging moment in your Pre-Moot experience? What was the most memorable moment?
To us, one of the biggest challenges that any counsel would face in an arbitration is sensing the inclinations, concerns and expectations of the tribunal at an early stage of the hearing and adapting the client's case to them- and we found ourselves posed with a similar challenge, leading the arguments. It was only through the course of the delivery of my case, over the fifteen designated minutes, that our engagement with the tribunal would allow us to become increasingly responsive.
The rounds and the social gatherings towards the evenings allowed us to interact with other teams, arbitrators and arbitration professionals and take away fond memories. The most memorable moment in the Moot was arguing before the distinguished panel comprising of Mr. Christopher Lau, Datuk Professor Sundra Rajoo and Mr. Abhinav Bhushan, in a packed Auditorium. The rush of arguing in high-pressure situations is what attracted us to the legal profession and acting as the counsel in a 20-million-dollar dispute made us feel like lawyers for the first time ever!
3. What is most valuable lesson you learned? What is the most important change in yourself? Which skills have you developed?
The most valuable takeaway from the Pre-Moot, was a better understanding of the spirit and practice-related aspect of arbitration as a dispute resolution mechanism. The hearings at the Pre-Moot simulated, to the extent possible, the tone and ambience of an actual hearing. In doing so, they allowed us to imbibe the more commercially cognizant and collaborative nature of arbitration hearings, as opposed to the adversarial and formalistic court system that we were most familiar with prior to this experience.
Mr. Abhinav Bhushan, had said in his opening address that the ground rule for all Vis participants is to not sleep before 3 AM everyday - that they should not stay in their rooms but go out and meet as many people as they can! We diligently put this advice into practice and realized how big a difference this made to our entire experience. Mr. Bhushan's lesson on the importance of how to network, was my biggest lesson from the moot.
4. "Once Mootie, forever Mootie": are you planning to participate next year or coach a team of your university in future?
Most definitely! Our inclination towards mooting comes from the totality of the experience: the level of understanding of the subject matter that it pushes one towards; the nonpareil interaction that it allows between participants and judges alike; the friendships it allows to be forged; and simply the excitement that presenting a case (to a usually unrelenting tribunal) brings with itself!
The motivation behind wanting to coach a team from our University, or any other, also comes from a very personal experience- one where we, as a team, did not have access to a lot of resources and perspectives on the moot. We picked up the ropes along the way which, although an invaluable learning in itself, is something we would really like other similarly placed teams to benefit from right at the offset.
5. Do you think the Pre-Moot will have an impact on your career in international arbitration?
In our view, a career in international arbitration is largely a function of the requisite skill set; and also, cannot be divorced from the people that make the field what it is. The Pre-Moot afforded us the opportunity to learn from both: skills, as employed in and developed through the course of the rounds; and diverse stories and perspectives that everybody came in with and very generously shared.
6. Would you recommend other teams to participate in our next Pre-Moot?
Absolutely! The AIAC-ICC Moot was organized in a manner which brilliantly facilitated conversations with practitioners and arbitrators - in formal and informal settings. Meeting such people not only gave us an insight into the path to be taken to succeed in International Arbitration but also helped us develop our personal networks of mentors and guides which will be of great help when we decide to take the leap into practice.
The Pre-Moot offers everything there is to learn not just in preparation for Vis, but also otherwise, to anybody looking to explore the field of international commercial arbitration.
7. Your secret to success
We think a lot of the strengths that we were able to play to at the Pre-Moot came from the collaborative nature of the preparation process that Vis entails: remote practice sessions with teams across jurisdictions and inputs from people who had done Vis beforeon what to expect and look out for. Additionally, we really tied to focus on conceptual clarity as to arbitration, before delving into the more nuanced issues that the problem posed; we think that went a long way.
8. Your message for the future teams
As cliched as it sounds, the journey leading up to the Moot is as precious as the Moot itself. Work hard, think out of the box, network effectively and most importantly - enjoy every moment of it!
Interview with the winners of the Malaysian Finals - International Islamic University Malaysia (IIUM), Team 2
Known as one of the top Malaysian law universities, it comes as no surprise that a team from the International Islamic University Malaysia (IIUM) becomes the first winners of the Malaysian Finals of the 1st AIAC-ICC Pre-Moot. The team is represented by:
Adly Zulfadhly Bin Zulkefly, Fatin Nursa'adah Azman, Muhammad Shahrin, Munyra Muhafif and Sharifah Shazuwin Binti Syed Sheh
1. Why have you decided to participate in the Pre-Moot? And why was it important to participate in the first edition?
Muhammad: I chose to participate in the Pre-Moot competition because of the nature of the competition itself. I was thrilled to participate in a competition involving many people from all over the world.
Sharifah: I believe in education through experience and the Pre-Moot has most definitely taught me more than I could hope for. It was important to participate in the first edition as I had expected it would be an exciting experience and definitely different from the previous mooting competitions as this Pre-Moot has provided the platform to expand my network and social circle as well as getting to know other law students from various backgrounds. Indeed, it was a very special experience for me, one that I will always remember.
Adly: I decided to participate in the Pre-Moot because it is a new thing for me to try. For me, joining the first edition will actually set a benchmark to my own future in the legal career.
2. How challenging was your experience? Are you planning to participate in international rounds in future?
Munyra: Throughout the journey till the day of competition, there were a lot of obstacles going on with the dramas that we had, juggling with the academic workloads and other extra-curricular activities. When it was the day of the competition, we simply decided to give the best that we could since we had gone through a lot of hectic weeks and sleepless nights just to understand the case and to strengthen our arguments. Somehow or rather, the experiences that I had gained in preparing for the competition had helped me to enhance my soft skills especially when it comes to critical thinking and time management. It sounds petty or just another ordinary lesson I had learnt but I realized, how important to have these skills nurtured and enhanced in order to build a better version of myself. Especially since, at the moment, pursuing a career in the legal field is my plan for the future. I would really love to join this mooting competition once again as a team member, as this is the platform for me to learn as much as I can about arbitration and alternative dispute resolution as a whole for my own career goal.
Fatin: It was a challenge for us as we had little time to practice and prepare due to time constraint. This is also the first time I participated in a moot competition. However, it is safe to say I wouldn't want to have it any other way. It was a journey I will forever cherish. Before, I aspired to be a lecturer. After the competition, my career goals have expanded and I am considering arbitration as a profession. I learnt a lot within a month, not only that, I also had the chance to meet great and prominent individuals. If I had the chance, I would definitely participate in international rounds as a team member. It's a golden opportunity and it would be a waste to miss it!
Adly: Our team started with not-so-organized preparation but each team member knew their own job in doing the research and we also consulted each other on many issues regarding the Moot questions. It was worth the time to do research together with my teammates, as they provided their own interpretation of law. So, I have learned a lot on the issues from different aspects. This skill is actually very useful to be applied in studying as a law student. I would also like to join the international rounds both as team member and also as the arbitrator in the future.
3. What would you recommend to the Malaysian students planning to participate next year?
Sharifah: I'd say that it will be a mooting experience like no other. They will enter and meet others as mooters and leave as friends. The friends I have made during the three days have definitely left me with great impression. Also, to expect great coaches too because they're the best ones around. I was lucky to be under the guidance of Luis and Tatiana. (Senior International Case Counsels)
Munyra: Give yourself a try of something new because you will have no idea that at the end of the day, it is going to be worth.
Muhammad: Make full use of this challenging experience, you will learn and grow not only professionally but also personally.
Adly: Never doubt your own capabilities and never stop trying something new. Trust yourself and challenge yourself to the core.
4. What is the most important change in yourself?
Muhammad: I met so many different people and these people have certainly changed my views and helped me grow as a person.
Fatin: The most important change is believing in myself more. Once I set a goal, it is possible to achieve it with the correct attitude and support from all my teammates, friends, lecturers and coaches along the way.
Sharifah: The biggest change I realised was the fact that I could lead a team to victory because I didn't know I had it in me in the first place. They taught me more than I could teach them. I had always been a follower and thought I worked best alone but the most important thing to me was that my team became my family. That's how powerfully the Pre-Moot affected me.
Munyra: It has made me more confident about myself and more optimistic in whatever I do. (Other than the part that I became famous in my faculty for a while).
Adly: I've learned to value my teammates' thoughts. They taught me a lot about being myself and I also learned to share things with them.
5. What is the most valuable lesson you learned?
Munyra: Getting out of your comfort zone could be the best thing you can do to yourself. This was my first time ever joining a mooting competition and I never thought I would like to join one when I started my degree at university, as previously my interests were on arts and performances. When I was given the opportunity to join this Pre-Moot, I only thought of accepting the offer in order to get out of my comfort zone for new adventures and discoveries. I was a bench counsel of the team at the beginning, basically helping the team to do research and giving them assistance to prepare the arguments and authorities. I was appointed to become the oralist 4 days before the competition due to unavoidable circumstances and it was one major change in my role for the team. I went to the competition just for the sake of the team and just to give it a try for me to try new things. I had never thought to get into finals because everyone was equally excellent and amazing but when I went, again, it was for my team because we had been working hard together for it.
Muhammad: The most valuable lesson I've learned is to enjoy doing whatever you are doing.
Fatin: I learnt that there's always plenty of opportunity in the world. It's for us to figure out what we want, grab the opportunity and make the most of it. It's never too late to explore new things!
Adly: Being in a team is one step towards success but having a good team is whole other experience to grab.
6. Secret of success.
Sharifah: Sense of humour. Mooting can be stressful and bring out the ugly side of everyone when the boiling point is reached. I made sure it wasn't even close for my team. Laughter is indeed the best medicine.
Muhammad: To enjoy what you are doing. Hard work alone would not guarantee success. Confidence and working smart would lead to success.
Munyra: To believe in yourself and to always walk together with your team members no matter how bumpy the road can be.
Fatin: To always persevere and know that it is okay to make mistakes, we learn and grow from those mistakes.
Adly: Listen to your critics and sleep well.
.
Interview with the Champions of the 2nd AIAC-ICC Pre-Moot – Gujarat National Law University
The Gujarat National Law University participated and emerged as Champions of the 2nd AIAC-ICC Willem C. Vis Pre-Moot ("AIAC-ICC Pre-Moot"). The team, composed of six members undertaking their third to final year of undergraduate studies: Akanksha Singh, Anushka Mittal, Arun Bhadauria, Gladwin Issac, Shruti Trikanad and Varun Srinivasan, have spoken to us on their first-hand experiences participating in the AIAC-ICC Pre-Moot.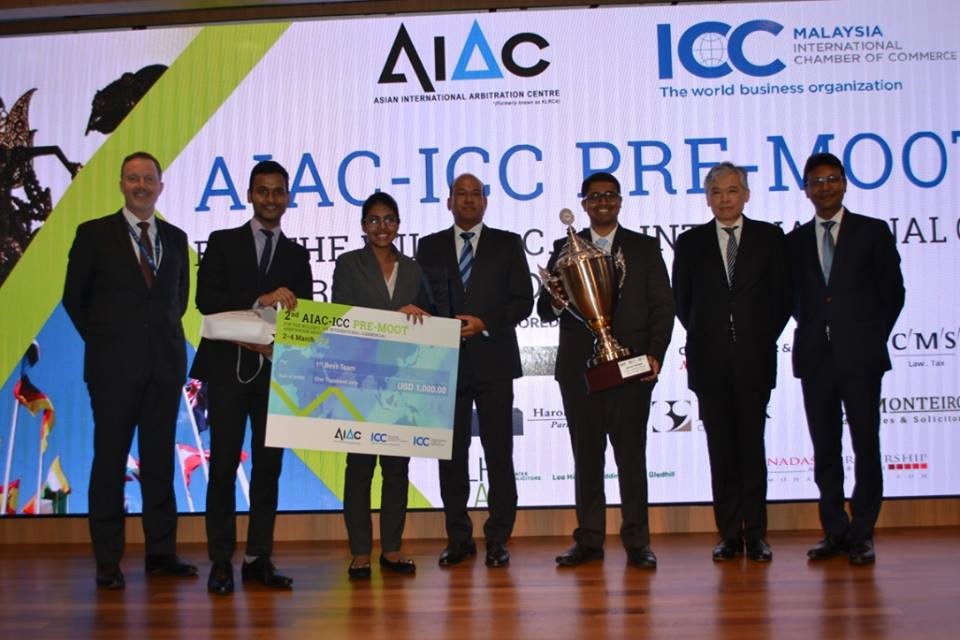 From left to right: Gavin Denton, Arun Bhadauria,Akanksha Singh, Datuk Professor Sundra Rajoo,Varun Srinivasan, Prof. Anselmo Reyes, Abhinav Bhushan.
1. Why have you chosen to participate in the AIAC-ICC Pre-Moot? How many people were involved in preparations?
ANUSHKA: This was the first time that a team from Gujarat National Law University had participated in the AIAC-ICC Pre-Moot. The decision to participate in the AIAC-ICC Pre-Moot was a coordinated decision led by team members: Varun Srinivasan and Gladwin Issac. Since Gladwin had participated at the 13th Willem C. Vis (East) Moot, he was aware of the quality of the AIAC-ICC Pre-Moot through his interactions with other participants at Hong Kong. The team was also aware that AIAC-ICC Pre-Moot is one of the biggest Pre-Moots the world! Thus, the scope of the competition, its proximity to India and the budgeted expenses sealed the deal to participate in the AIAC-ICC Pre-Moot. Since, the team considered the AIAC-ICC Pre-Moot to be a stepping stone to the 15th Willem C. Vis (East) Moot, the entire team was involved in the preparation for it.
ARUN: I was informed by one of my teammates, Gladwin Issac, about the first edition of the AIAC-ICC Pre-Moot. The foremost reason to participate in the 2nd AIAC-ICC Pre-Moot should straightaway be convenience in participating. Since the dates of the moot fall near the dates for Vis East Moot, it is very convenient to be there in Malaysia and then take your lessons immediately to Hong Kong. And, we had the service of all our six teammates clocking their needed spells whenever they were needed. And I am also grateful to all the academicians, practitioners and the other teams that helped us in preparing.
VARUN: After we had decided to do the Hong Kong moot, we had to sit down for budgeting. Without exception, all of our advisors/alumni suggested that a Pre-Moot is a must. Consequently, we had a choice between doing either the Indian Vis Pre-Moot, well in its 8th year, and the AIAC-ICC Pre-Moot. The decision did not take long- having a look at the maiden edition's roster of teams and arbitrators convinced us that the international exposure would teach us volumes (as it did.) Further, I do not think we could have passed up on an opportunity to visit the wonderful city of Kuala Lumpur. My team had 6 members in total, of which 3 could attend the AIAC-ICC Pre-Moot. We often coordinated with our sister team going to Vienna, as well as a number of arbitrators who very generously offered their time to take our rounds.
2. What was the most challenging moment in your AIAC-ICC Pre-Moot experience? Did it become one of your memorable moments?
AKANKSHA: I found that an ex-parte round, presided over by Dalma Demeter was the most challenging and rewarding experience of the AIAC-ICC Pre-Moot. I was forced to think about practical considerations governing the arguments that we were proposing. It surely was an unforgettable round that lent much needed perspective to my team along with a reinvigorated sense of purpose.
ARUN: I believe it was the final of the moot. The president of the tribunal intimated our speakers to skip one of the two issues in their oral pleadings and directly move on to the rest. I trust that must have had been challenging. A good moot team must be adaptable to the taste of their bench to an extent. However, this situation was still a bit off. One really needs his/her best agility, form and fortune to radically change all the pre-decided equations and time management. And since Varun (he was the first speaker of all in that round) did not have a desirable start which is understandable, it made me anxious. I thought, had I had my druthers, I would have asked them to restart! Nonetheless, Varun, later, showed a great character throughout his deposition. That was remarkable.
But of course, the most memorable moment was simply when we won. When you see rest of your teammates happy for getting through to in the common cause, no memory takes precedence over that.
VARUN: It has to be the final round. Up till that point we had a number of experienced, skilful arbitrators but none so skilful in handling a round as arbitral tribunal of the Final. At the outset, the tribunal asked us to forget about the first issue - so the well-structured and time-practiced speeches went outside the window. After a bit of jitter in the beginning however, this challenge became the most memorable as served as the prime example of what Vis Mooties have been saying every year: each round is different than the previous, and if you do not adapt, you have already lost.
3. What is most valuable lesson you learned? What is the most important change in yourself? Have you acquired any useful skills?
ANUSHKA: The journey of participating in the Willem C. Vis (East) Moot has taught me innumerable lessons. One key takeaway, from my experience, is the knowledge of the precision that must be expended to frame an argument. The craft and skill needed to make clean and crisp sentences is an invaluable skill, especially for lawyers. Thus, the experience of working with a diverse set of people who provided invaluable inputs to make coherent sentences that would fit the word limit of the memorial submission requirements was enjoyable and educational. Now, I like to pay more attention to words and the meaning that they convey.
SHRUTI: My greatest takeaway from this competition is the amount of thorough preparation that became necessary, because of the competition that we had to face. Not just in terms of thorough arguments, but also in preparing several versions of speeches for every situation, having well prepared answers to every question, tailoring our approach to the bench/opposite team, etc. The conclusion of every round demanded a meeting of the entire team, and this ensured that we learnt from every round and were better prepared for the next.
4. Is this your first international cultural experience? What did you think of the cultural dinner?
AKANKSHA: While it was not the first such experience I have had, but it was one of the most memorable events at the Pre-Moot for me.
ARUN: Well, it was not the first one. But here the cultural dinner was amazing. It certainly can make one feel like 'those three days of labour were worth working hard'.
VARUN: Not the first one for me as well. However, I was just as excited - I have only gotten to go outside India for moot courts only, and exposure to any kind of international experience - be it the cultural dinner, the arbitrators, or the teams naturally became a highlight of 2018 for me.
5. Mooting is addictive once you delved yourself into it. Are you planning to participate next year or coach a team of your university in future?
ARUN: Well, I do plan to participate in Vis Vienna in 2020. I am sure the AIAC-ICC Pre-Moot will be on board. You can't afford to leave the experience of one of the largest Pre-Moots from your Vis exercise.
ANUSHKA: Mooting is truly a wholesome experience, in terms of the hard work it requires and the number of opportunities it opens up. Though I do not plan to participate or coach a team in the near future, I am always looking forward to newer opportunities!
6. Do you think the AIAC-ICC Pre-Moot will have an impact on your career in international arbitration?
AKANKSHA: Besides the extraordinary exposure I received, the AIAC-ICC Pre-Moot allowed me to get the opportunity to intern at the AIAC, so it has definitely been a nudge in the right direction.
VARUN: Gladwin and I have already decided international arbitration to be where our hearts lie, well before the AIAC-ICC Pre-Moot. Thus, participation in an international event like this was a crucial introduction to the industry for me. The opportunity to intern with AIAC is definite outcome out the AIAC-ICC Pre-Moot, and I fully hope to put my best foot forward in arbitration, right out of KL.
7. Would you recommend other teams to participate in our next AIAC-ICC Pre-Moot?
AKANKSHA: Definitely. The AIAC-ICC Pre-Moot was crucial to any limited success we had at cracking the problem (and the moot).
SHRUTI: Absolutely. From what my team told me, the organisation and quality of judges was unparalleled, and I would certainly recommend future Vis teams to partake in this experience.
ARUN: No doubt about that. As I said, there is no reason one should excuse the best Pre-Moot in his/her Vis pursuit. I will highly recommend it to any moot team that I get in touch with.
VARUN: Without a doubt. Especially for teams participating in Hong Kong - there are 4 other Pre-Moots out there, but only the AIAC-ICC Pre-Moot serves to be the "full experience".
8. Are there any secrets to your success?
ANUSHKA: The team abided by the principles of hard work and determination. The extra efforts were made in terms of exploration of all avenues to improve the performance and leave no stone unturned. For example, we contacted various arbitration experts, past year participants and teams even before the Moot or the Pre-Moot. Thus, the team used more of a guided strategy and less of a secret formula to perform its best.
AKANKSHA: The secret was an incredibly encouraging, dedicated, and enthusiastic bunch of teammates who ensured that no ill health or fortune would have an adverse impact on the outcome of the moot.
SHRUTI: No, only preparation. What I found led to our success was near complete clarity on all the nuances of the problem. Additionally, we were prepared for every possible interpretation of all the facts, as a result of which we are able to adequately combat every situation that presented itself during the competition.
9. What do you think of the level of the organization of the AIAC-ICC Pre-Moot?
AKANKSHA: Without a doubt, it was best moot I have attended in terms of its organisation. The support provided to students in terms of accommodation and other costs that were waived is the kind of encouragement that ensures wider participation and inclusion. Coupled with the lecture series organised in between rounds, the moot adopted a holistic approach which inspires confidence in the Organising Committee.
ARUN:The organization of AIAC-ICC is just uncomplaining for a participant from any continent. From accommodation to the rounds, the organisation was much beyond what you expect in any international event which has just started one year ago. No doubt, going at this pace, it will earn a remarkable popularity just in few years. Maybe we can see double the number of teams that participated in this edition in its fifth edition!
VARUN: Impeccably organized. I have more than once seriously said that the Vis East should consider hosting the moot in AIAC
10. Do you have any message for future teams participating in the competition?
ANUSHKA: All future teams should participate in the Moot to gain an educational experience in the field of arbitration and sales law and make the most of the opportunities that the Moot provides. And obviously, participate at the AIAC-ICC Pre-Moot!
SHRUTI: My Vis experience has been memorable largely because of the compelling need to be so thorough with the problem, that there is no room for error whatsoever. This is what differentiates this moot from all the others I have participated in. I would advise anybody who is considering participating to certainly give it a real shot, as there is more to learn here than any similar experience. Additionally, to practise as much as possible, with other teams, as one can only truly recognise different interpretations/perspectives of the problem in this manner. The most efficient way to go about this is to participate in Pre-Moots, as it gives you the most wholesome experience. Additionally, ​needless to say, it is a wonderful opportunity to meet teams and persons from all over the world. It would also function as a great kickstart to a career for all those who want one in commercial arbitration.
ARUN: Keep mooting! It's one of the best experiences that you get in law school. Any international moot is full of versatile occurrences, practical and theoretical, both. It helps in shaping oral advocacy as well as drafting if the needed time is devoted. And of course, Vis takes it to the next level. And if you do Vis, don't forget to schedule flights for AIAC-ICC Pre-Moot!
VARUN: Since I come from a background of Indian mooting culture, I'll address my message to same community - do not treat Vis Moot like other moots. The preparation is the prize, and the harder you work in connecting with arbitrators, teams, Pre-Moots, the greater the rewards. The moot, much like its industry, is blind to borders but alive to legal traditions arising from them. Learn them, adapt to pleadings, and the moot is yours!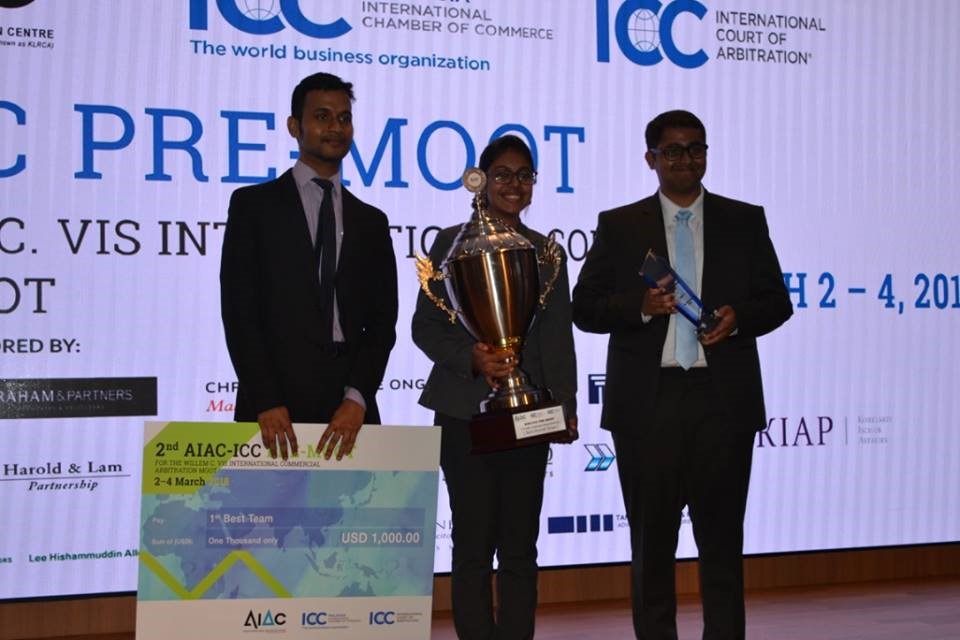 From left to right: Arun Bhadauria,Akanksha Singh and Varun Srinivasan.
The interview with the winners of the Malaysian Final – Brickfields Asia College, Team 4
Brickfields Asia College (BAC) is no stranger to the AIAC-ICC Pre-Moot for the Willem C. Vis International Arbitration Moot having participated in the inaugural first edition of our competition back in 2017. After failing to achieve the coveted title then, BAC returns to the competition with fresh faces and one of these teams, BAC Team 4, emerge victorious! Check out below the interview with the champions of the Malaysian Final: Ashley Lee Sze Theng, Kimberly Liew Hui Ping, Lee Sian Yin, Rachel Tee Zi Wei and Wong Wen Sheng to find out more about their experience.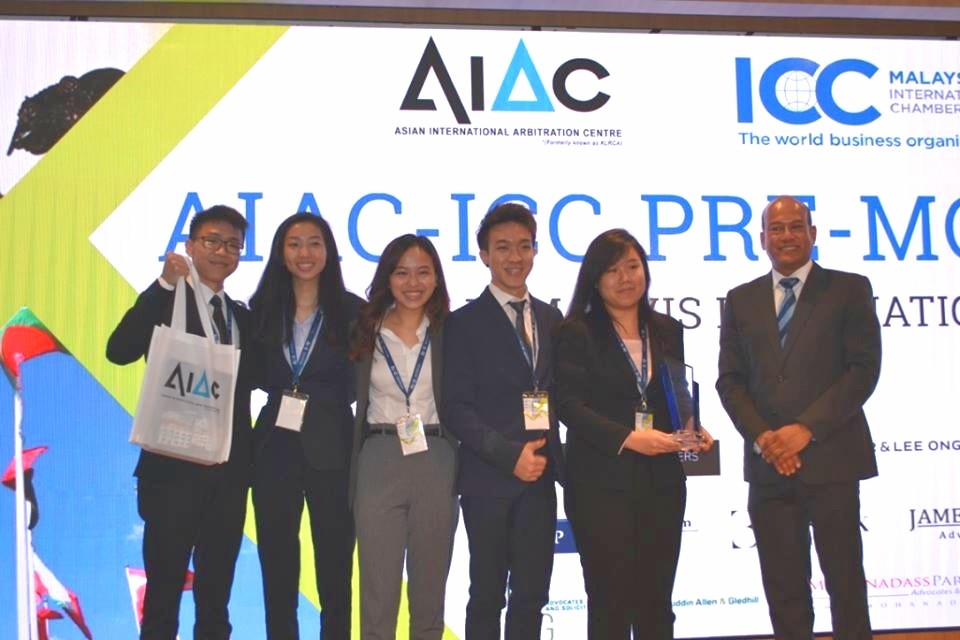 From left to right: Wong Wen Sheng, Rachel Tee Zi Wei, Ashley Lee Sze Theng, Javier Lee Sian Yin, Kimberly Liew Hui Ping and Datuk Professor Sundra Rajoo.
1. We noticed that your team actually went up against another team from your learning institution. How does it feel like to face your own teammates in the Malaysian Final?
KIMBERLY: Pressured but relieved at the same time for the familiar voices. At the finals, we are opponents to bring the best out of each other, to handle the panel of arbitrators' questions well became our ultimate aim. Outperforming our previous self is the focus.
RACHEL: It seemed even more intimidating than going against unknown opponents, as we were all familiar with the arguments, and style, and strengths of our teammates. On top of that, they had taught and guided us on everything, starting from the ground up. Although my partner and I were not speaking for that round, it gave us peace of mind to trust and know that our counterparts would make our team proud regardless of the outcome. Despite the competitive element, all of us were grateful and proud to have made it that far to begin with.
2. How challenging was your experience? Are you planning to participate in international rounds in the future?
ASHLEY: The AIAC-ICC Pre-Moot was definitely more challenging than what I had expected, especially the amount of preparation that was required. There were countless meetings and practice sessions, all done to make sure we were prepared from all possible angles. As it was my first time competing, challenging people from a myriad of cultures and backgrounds was daunting. However, since the Finals, we are definitely planning to participate in Vienna/Hong Kong next year.
RACHEL: Although the experience was objectively challenging, having a group of driven individuals helped us cope with the demands of the competition. At some points, several of us felt completely lost with the whirlwind of meetings, practices, and workshops, while simultaneously maintaining our studies. However, we intend to compete in the next international rounds, to test our limits and find out what we are capable of.
3. What advice would you give to other Malaysian students planning to participate in the moot next year?
WEN SHENG: Start early! Researching on the relevant laws can be overwhelming as they might seem rather foreign to you. Thus, it's good to spend some time understanding the various sources of law and why and how they apply. Most importantly, run oral practices as frequently as you can.
ASHLEY: To not be afraid of treading into uncharted territories, and to stay focused. Your fear, whatever it may be, has a tendency of overwhelming you and thus makes the journey more difficult than it should be. How one can alleviate some of this fear is to simply face them. Overtime, once you go through many practice sessions with your teammates, your fears would seem smaller because you know what you are capable of controlling. On top of that, don't forget to start preparing early!
4. Do you see a career in this field of law?
KIMBERLY: Certainly. With the exposure given by AIAC through designated workshops and the competition, arbitration and adjudication is deemed as the new rising demand due to business globalisation.
RACHEL: Yes, I think that traditionally, law students are conditioned to believe that after law school, taking the Bar and practicing law is the 'correct' path to pursue. While still studying, I had not properly considered other options as being potential career paths. However, alternative dispute resolution poses several characteristics, different from courtroom practice, that appeal to me, such as flexibility and efficiency. Familiarity with different ways to apply legal knowledge allows me to make more informed decisions on my future, and arbitration is definitely an area I am now considering.
5. What is the most important change in yourself? Do you see any changes compared to a year ago, today?
ASHLEY: Being able to articulate my thoughts and ideas more clearly and eloquently. Mooting nurtured my ability to think on my feet whilst under time constraints. I realised I've grown to be more confident and goal-oriented as well. Compared to a year ago, I would say now I am more meticulous and detail-oriented which I would consider is a key skill of continued importance.
RACHEL: I would say that the AIAC-ICC Pre-Moot, as well as mooting in general, has made me a lot more confident in my speaking and research abilities. Being put under the same kind of pressure repeatedly taught me several methods of what works for me, as well as what doesn't. Through a process of trial and error I think that I have developed a process that is beginning to produce consistent results, and I hope that it can continue to do so in the future.
6. What is the most valuable lesson that you have learned from this competition
KIMBERLY: Everyone plays a role to success. Regardless of being an oralist, researcher or team manager without one another to rely on and be the strongest foundation to each other, the entire process will not be meaningful.
WEN SHENG: I learnt that teamwork is of paramount importance. It might sound like a cliché but it's what kept us all alive during the most difficult and tiring periods leading to the competition.
7. If you could dedicate your success to anyone, who would it be?
WEN SHENG: Our seniors, Cheo Kar Meng, Low Kar Yeen, Sonia Soon and Crystal Choong, had played an integral role in our achievements. Not only did they constantly provide us with new inputs, they also made it a mission to 'grill' us during oral practices - just so that we would have the confidence we need for the competition.
RACHEL: Our seniors, were the most patient, generous, and helpful mentors that we could have asked for. They humbly guided us as peers rather than from a position of superiority. As a team, we started with a completely blank slate on how the competition worked, how to analyse the problem, how to form arguments, and how to present them. For every step of the way, they answered questions, no matter how obvious, offered assistance, and conducted meetings, with the pure intention of mutual improvement. They were both our biggest supporters and harshest critics, producing a balance of confidence in ourselves and hunger for success. For grooming our skills for both academic and social aspects of the event, none of our triumphs would have been possible without them.
8. Could you share with our readers what your secret of success is?
ASHLEY: To be committed to your work whole heartedly. You have to love what you do, and know that you can do it well by continuously striving to push your own boundaries everyday. Success is attainable, if you are committed and consistent in this. Moreover, it is also knowing when to take a break when you need to. When I find myself stuck during hours of preparations, taking a break really helps clear the mind. More often than not once I go back to working, I end up finding the solution with a clearer direction.
RACHEL: To trust in my preparation rather than skill - although tedious, repetition and practice are the best chances you have to ensure a consistent performance. In a setting where virtually all participants are strong speakers and advocates, the main factor that can set you apart from the several others they will be hearing will depend on your preparation and familiarity with the law and the problem.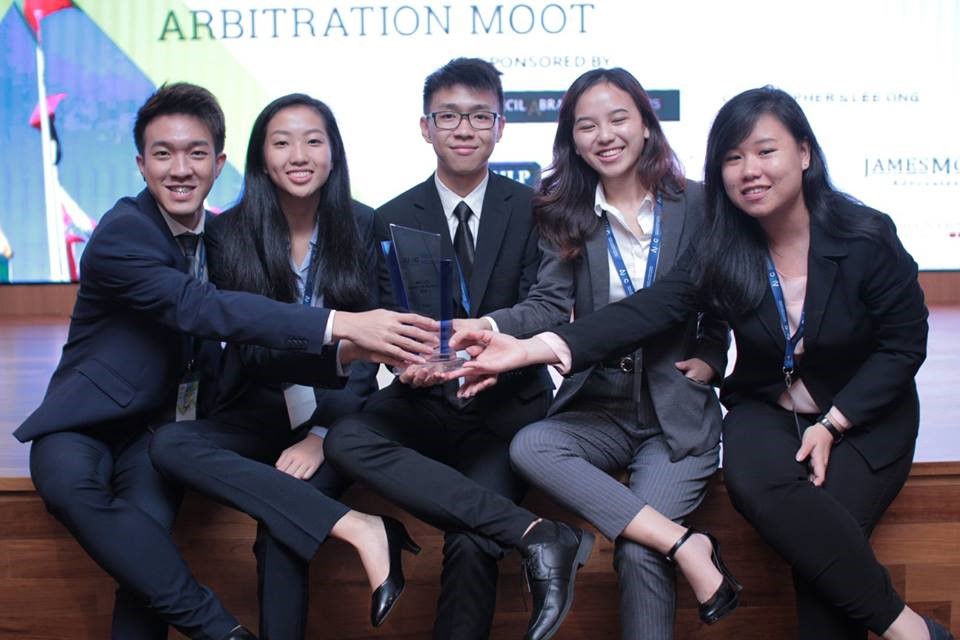 From left to right: Javier Lee Sian Yin, Rachel Tee Zi Wei, Wong Wen Sheng, Ashley Lee Sze Theng and Kimberly Liew Hui Ping.
List of Awards and Winners from the 2nd AIAC/ICC Pre-Moot for the Willem C Vis International Commercial Arbitration Moot
| | |
| --- | --- |
| Category | School |
| Champion | Gujarat National Law University, India |
| Runner-Up | National Law University of Delhi (Team 1), India |
| 3rd Place | National Law University of Delhi (Team 2), India |
| 4th Place | International Islamic University Malaysia (Team 1) |
| Winner of the Malaysian Final | Brickfields Asia College (Team 4), Malaysia |
| Runner-Up of the Malaysian Final | Brickfields Asia College (Team 1), Malaysia |
| Best Oralist of the International Final | Prashasti Bhat, National Law University of Delhi (Team 1), India |
| Best Oralist for the Malaysian Final | Ashley Lee Sze Theng, Brickfields Asia College (Team 4), Malaysia |
| Best Oralist for the Elimination Rounds | Varun Srinivasan, Gujarat National Law University, India |
| Best Oralist for the Preliminary Rounds | Ragad Al-Faraidy, Dar Al-Hekma University, Saudi Arabia |
| Runner-Up for the Best Oralist of the Preliminary Rounds | Kevin Reddington, Pepperdine University School of Law, USA |
| 3rd Best Speaker in the Preliminary Rounds | Lisa Stoeckl, University of Cologne, Germany |
| 4th Best Speaker in the Preliminary Rounds | Kaustubh Chaturvedi, National Law School of India University, Bangalore, India |
| 5th Best Speaker in the Preliminary Rounds | Akanksha Singh, Gujarat National Law University, India |
| 6th Best Speaker in the Preliminary Rounds | Rachel Tee Zi Wei, Brickfields Asia College (Team 4), Malaysia |
| Best Memorandum on behalf of the Claimant | Singapore Management University |
| Honourable Mention for Best Memorandum on behalf of the Claimant | University of Canberra, Australia |
| Best Memorandum on behalf of the Respondent | Gujarat National Law University, India |
| Honourable Mention for Best Memorandum on behalf of the Respondent | National Law School of India University, Bangalore, India |
| Best Outline on behalf of the Claimant: | International Islamic University Malaysia, Malaysia |
| Honourable Mention for Best Outline on behalf of the Claimant: | Brickfields Asia College, Malaysia |
| Best Outline on behalf of the Respondent | University of San Agustin, Philippines |
| Honourable Mention for Best Outline on behalf of the Respondent | Brickfields Asia College, Malaysia |